Equipments for the Commercial Diving Industry
Commercial Diving Supplies is a proud retailer and supplier of commercial diving equipment to the World. We are operated by AXSUB® in Canada and we are the largest stocking distributor for commercial diving industry in Canada. We strive to offer the highest level of customer service and satisfaction along with most competitive prices available for your products in today's market. AXSUB® Quality Management System is certified ISO 9001:2015.
AXSUB® is authorized stocking distributor or reseller for the following brands & more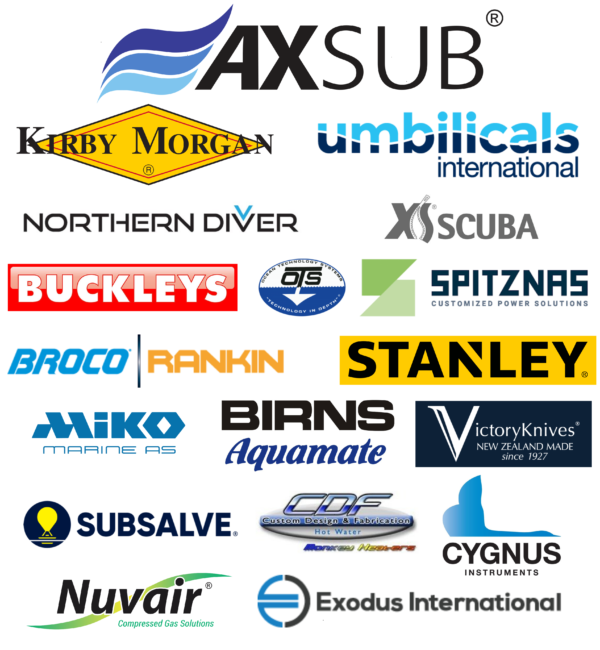 KIRBY MORGAN® DIVE SYSTEMS INC. (KMDSI) – HELMETS AND PARTS,
UMBILICALS INTERNATIONAL – Diving Umbilicals and Parts,
BROCO-RANKIN® – Underwater Welding Electrodes,
EXODUS INTERNATIONAL – Cutting Electrodes,
SPITZNAS  – Hydraulic and Pneumatic Underwater Tools,
CYGNUS INSTRUMENTS – THICKNESS GAUGES,
BUCKLEY'S – BATHYCORROMETERS®,
OCEAN TECHNOLOGY SYSTEMS (OTS) – MASKS AND PARTS,
SUBSALVE USA, Lift Bags
CDF CUSTOM DESIGN & FABRICATION (MONKEY) – Hot Water Heaters for Commercial Diving,
NUVAIR – LP & HP Compressors and Gas Analysers,
NORTHERN DIVER – Harness and Diving Suits,
MIKO MARINE – Magnets,
STANLEY®  – Hydraulic Tools & Hydraulic Power Unit,
BIRNS AQUAMATE and BIRNS – Underwater Connectors,
JW FISHERS MFG – Underwater Tools.
AND MUCH MORE !!!